News:

Recording Piano next week
(04.28.09)

I'll be back in the studio next week recording piano for 3 new pieces, Silhouette, Tailwind and another one that doesn't yet have a name so it's currently just called 093008. I"ll post pictures and possibly audio from the sessions if it all works out well. I've been posting some new drafts on facebook from time to time. If you're interested please join me at http://www.facebook.com/pages/Michael-Halaas/15667825329


Performing with Joan Jeanrenaud at Great American Music Hall
(08.15.08)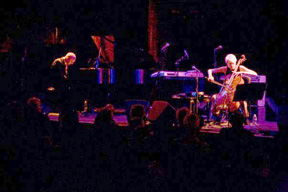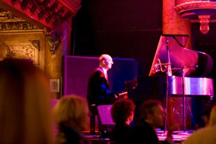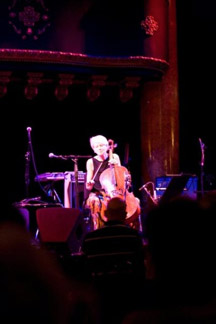 More photos on Facebook

Joan Jeanrenaud, the incredible cellist who joined me on The Lucidity Project is releasing a CD of original compositions in June. To celebrate she will have a CD release concert at Great American Music Hall on June 25th in San Francisc. I will be joining her on piano and the evening will feature a great group of musicians including members of the Kronos Quartet and several other prominent musicians from the new music community in the bar area. Please join us.

Show: 8pm, $20 (tickets and information)

Join me on Facebook
(02.24.08)

I plan to post updates as I make my way through recording and hopefully also interact with anybody who's interested.

Join me Here.

Birds Can Fly Wallpapers:
(01.05.08)




Right-click to save, then add as your desktop image.

Echoes "Resonance" collection
(12.14.07)
A live recording of "Mural" has been included on a sampler CD from the Echoes program called "Resonance: The Echoes Living Room Concerts Volume 13". It's truly an honor to have Joan and I's performance included on this complation. Check it out: More Info : Listen (real) : Order

Recording in December
(10.10.07)
Finally have found a new recording studio in the bay area after the flood at the last place we were using (pictures left). I'll be recording piano in December and hope to meet up with Joan to finalize the tracks in the ensuing months.

LA Radio appearance, 8/7/07
(07/28/07)

I was on KCSN in the Los Angeles area on August 7th sometime near 9pm. They played tracks from Lucidity with interview segments in between.

Looking for a new studio
(07/27/07)

The studio where I've been recording had a serious flood and is now closing so I'm forced to find a new studio. This also means finding a new piano. I've been recording on the same piano (which I love) since 1993 so for me it's a profound change and I'm aprehensive. Although the next record is written and ready to record it'll be a bit delayed. Eventually the piano I've been using will again be available and I can't wait. Funny somehow just how important the instrument is to me. Relative to all other things in the world I understand it's irrelevant but for me it really matters.

Interview with Joan and I is now available via the Echoes Podcast (airs nationwide on July 11th and 15th 2007
(07/13/07)

The interview is available for free by visiting the Echoes podcast (will open in iTunes).

Echoes Performance airing on June 13th and 17th Nationwide
(06/11/07)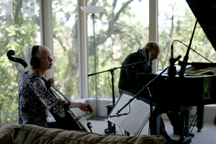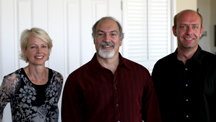 The recording of the "Living Room Concert" for Echoes was great fun. John Diliberto the host is incredibly good at what he does and hosted a great interview. Joan and I played several pieces as an acoustic duo. It was recorded in the living room of Dawn Atkinson, longtime producer and A&R person for Windham Hill Records and many other labels. Her piano and room were fantastic.

To find out airtimes in your area please see the list of stations on the Echoes website.

Live Radio Performance taping on Echoes on May 24 (04/27/07)

Joan and I will be doing a live performance for the fantastic Echoes radio program on May 24th. The show is syndicated to over 250 affiliate stations across the US. For more information about the show and stations near you that will carry it see the Echoes website.
Lucidity at # 17 on the radio charts (03/21/07)

Very interesting and happy to see that I"m currently #17 on the new age radio chart. I'm never quite sure how I fit into the new age category but then again I've never known quite where I fit in and it's great to be on the same chart as George Winston, Liz Story, Loreen McKinnet etc....

http://www.newagereporter.com/charts/top100.asp
"Waiting" used in short film (02/11/07)
A filmaker by the name of "Frank Jackson" sent me a note that he used a track from "The Lucidity Project" as soundtrack to a short film he made called "Crossroads." He used "Waiting" the final track on the CD, composed by Joan and featuring her playing several cellos with me on Piano. I quite like the film and Frank has given me permission to post it here. I of course heard the track many times during the recording of TLP but I heard it in a whole new way as part of this film, so thanks to Frank Jackson. You can view the film here:
http://www.birdscanfly.com/crossroads.html
Better way way way way late than... (01/17/07)

I finally joined the myspace throngs. I'll soon be able to sell tracks there and will hopefully put up some unreleased and/or hard to find odds and ends in case anybody is interested:

http://www.myspace.com/michaelhalaas
Progress (12/17/06)

I'm honing down drafts for the new recording. I'll be in the studio over the next few months and plan to release a new CD in mid-2007. So far I'm very happy with the shape so hopefully you'll like it when it's done. Not all the drafts will make the final record so I'll make additional tracks available through my website. I'll post pictures from the most recent sessions soon.

Free download of new track. (12/12/06)

Download "Crimson" from the forthcoming CD in the music section

"Stare" and "Face to Face" now widely available

For the first time, these two solo piano CD's are now broadly available. The physical CD's can be ordered through CD baby and the album and individual tracks will soon be available as downloads throuth iTunes and other online retaiers. To order through CD baby use these links: Stare | Face to Face

New Recording:

I'm working on a new release that will once again include the remarkable cello playing of Joan Jeanrenaud. Photos to the left are of these sessions. I can't wait to share this.

"No Disguises" and "12-1-98"

"No Disguises " and "12-1-98" are temprarily out of print. I'd like to remaster them before making additional pressings. Until then they are available as free downloads. Use these links for the full mp3 tracks. Login with username "listen" and password "deeply":